As any visitor to Thamel (Kathmandu) will be aware a considerable category of items for sale in its myriad shops, are textiles, clothes and costumes.  Orientated towards overseas purchasers in the main, almost all of these items (the internationally renowned Pashmina [Nepal is the home of All authentic pashminas!], but also traditional Nepali rugs with patterns relating to distinct varied different Nepali cultures, and clothes and costumes that celebrate the latter) are Nepali traditional culture(s) focused, with the addition of the highest quality Nepali-made mountain and trekking ware.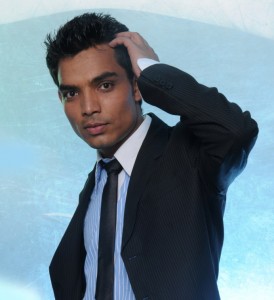 However, the textiles, costumes and clothing sector of Nepal is in fact much more extensive than this: it includes bespoke tailoring that is a significant bi-product of the nation's increasing involvement in and contribution to the fashion clothes industry (itself a result of the ever-growing KTM-based Nepali modeling world) .  In Kathmandu, and other of the country's major cities, bespoke tailors of great skill increasingly make international fashion designer suits and clothes, to a level of quality that by all technical standards matches the  West's own designer clothes industry itself (see image to left — NIAP International Communications and Education Support Officer, Deepak Tamrakar — illustrates the quality of KTM bespoke tailoring orientated towards fashion and contemporary designer clothes purchasers)!
This page of the website has been created to raise international awareness of both traditional and contemporary Nepali textiles, costumes and clothing.
The excerpts below are from an article in ECS Nepal that include two examples of Nepal's thriving textiles and clothing industries development.
Branding to the Top:
'Thamel is a microcosm of the larger Nepali export industry. A stroll in the neighborhood, discloses much about the types of prod
ucts that are in foreign demand. Pashmina, Thangkas, handicrafts are plentiful, felt and woolen wear also form the store front in its crowded gullies. Besides western mountain-ready brands, Nepal-made wool jackets can be purchased at a bargain year around, perfect for sub-mountainous treks. A closer look, though, reveals an interesting phenomenon. …' read full article.
Knots with contemporary designs:
Weaving and looming have been a part of Nepali lifestyle and culture since documented history.Today's burgeoning hand-woven carpet industry owes as much to Nepal's neighbors to the north as it does to the industry's openness to experiment and willingness to follow market trends. The arrival of refined Tibetan skills and intricate Buddhist designs were a boon to Nepal in the 60's, but since then, several other landmarks events have been observed by its producers. …' read full article.