Nepal has a thriving community of printmakers, with Thanka Buddhist art and Mithila artwork paintings in print being particularly renowned; moreover its foremost arts university campuses (such as Tribhuvan University's Lalit Kala Arts Campus) have printmaking departments:
In addition, the land and people of Nepal are the subjects for high quality print-artwork of Nepali and international printmakers. Perhaps the most renowned of Nepal's own artists specialising in printmaking, in the field of religious symbols and topics, are the husband and wife team of Uma Shankar Shah and Seema Sharma Shah. Their work is based in the deep spiritual & religious heritage of the nation, where through a blend of fine art painting, innovative techniques and the use of symbols and iconic features from Nepali Hinduism.
'The mytho-religious art of the subcontinent has a vital place in popular as well as high art
Kathmandu-based Uma Shankar Shah and Seema Sharma Shah exhibit their recent works in a show Sacred Spaces presented by Gallerie Ganesha. The husband-wife duo, both of whom teach art at the Tribhuwan University; are well versed in the mytho-religious art of the subcontinent along with the spiritual and ritual practices related to these  ……' read more.
Source: asianage.com website
Uma & Seema's work is also an exemplar that their is a substantial shared spiritual and religious heritage between the nations of Nepal and the Republic of India.  'Shared culture with India inspires Nepalese Printmakers …… read more.
Source: zeenews.india.com
---
Jimmy Thapa: 
Nepal's most renowned pen & ink artist and printmaker in the field of peace movement activism, and educator on the spiritual role of art and the life of the artist: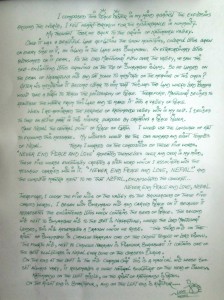 The dedication above — NEPAL: 'Never End Peace and Love' — is from the reverse of the famous panoramic view of Kathmandu Valley, showing its religious and spiritual landscape (below):

A copy of the work was kindly provided to NIAP initiator and project lead, Alan Mercel-Sanca by Nepal's most internationally renowned profesional painter, Govinda Sah Azad (a very good friend of fellow artist Jimmy Thapa) when he kindly joined the project in its early stage of development.  Below is an image from a recent exhibition of his work in Kathmandu: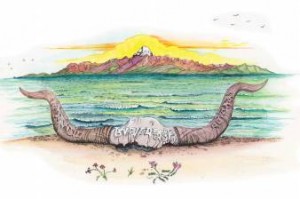 "My Spiritual Adventure at Kailash" is a pen and ink travelogue of Jimmy Thapa's three pilgrimages to Kailash and Lake Mansorovar in 1989, 1992 and 1996.
Where he spent days and nite in highest plateau on earth studying the cosmic vibration of heavenly sky, creating miniature water-color paintings with the holy water of lake, and sketching with pen and ink on Nepali hand-made paper. …. read more.