The NIAP is delighted to be working with the Sukarma music group and Dr Dhrubesh Chandra Regmi: this is as a result of introduction by one our  Classical Nepali Music Technical Advisor, Sita Maiya Rajchal, whose guru is Dr Dhrubesh.
As a result of the work of the NIAP Dr Dhrubesh and Sita have had the brilliancy of the music, and greatly gifted music educational records introduced to contacts in the UK, through a Scotland/Edinburgh based arts and music promotional organisation and related network: this in regard to a March 2016 Britain Nepal Chamber of Commerce (BNCC) delegation visit to Nepal that the NIAP provided important supportive introductions for.  We are very excited about the possibilities that are offered by this valuable introduction of Dr Dhrubesh and Sita Maiya Rajchal.
---
About Sukarma:
Formed in 1997,Sukarma is Nepal's most sought-after folk-classical outfit comprised of three talented instrumentalists. In the words of Professor Abhi Subedi "the musicians of Sukarma are the walking museum." The commonality among the instrumentalists of this musical group is that they belong to the illustrious gharana (home) of music who have been playing for generations. Sukarma, as the word refers to as "good deeds" upholds a two-fold philosophy. Firstly, the musicians devote themselves to the music by celebrating it as a symbol of their Sukarma. And secondly, they endeavour to instill the classical music in the young generations.
Dr Dhrubesh Chandra Regmi: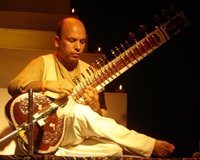 Dhrubesh is a rare exponent of sitar belonging to the illustrious musical family of Nepal. His great grandfather Dev C Regmi is credited for pioneering sitar in Nepal. His grandfather Krishna C Regmi was the recipient of coveted Indra Rajya Laxmi Award for his contribution to the Nepali music. ….. read more.