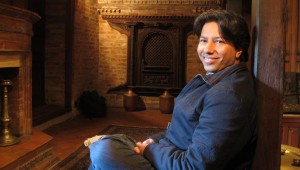 There is a renaissance in the South Asian world of architecture, with ancient concepts of interior design coming increasingly to life, to transform the lives of many thousands of people in the living environments that they have. There is a message in this that extends to all corners of the world, including especially the West I feel: we need to conserve ancient and traditional cultural heritages, not least in architecture and interior design conservation for commonly these have a transformational effect upon not only urban and living environments, but upon broader social cohesion and quality of life.
This is a message that I feel the vision and values the NIAP has at its heart, and I am very excited about what this can mean for people in the UK learning more about Nepali culture and arts in these fields, and about the renaissance in traditional Nepali architecture I am very privileged to be playing a part in not only in Nepal, but South Asia and the broader world.
My work is motivated by the vision that respect and care for cultural conservation, whether it be domestic housing, temples, or schools and civic buildings does link strongly to respect for broader humanity and the interconnection every member of the human race ultimately has with his fellow, and how through knowledge about such philosophies as Bastukala, Humankind reconnects with and lives in harmony with Nature.
I wish to see these teachings come to a greater level of awareness in the UK and West and am excited about how this will open up dialogues with others who understand seek to further these principals of enhanced quality of life through conservation and related preservation of culture in the fields of architecture and interior design. Much of my work is non-commercial and links to major vocational projects, at the heart of the foundation – Rabindra Puri Foundation — I created in 2010 and to which I dedicate 50% of my property.
Although quite different in their audiences and activities, the RP Foundation's current main initiatives — Upliftment of Community Schools in Remote Areas, the Nepal Vocational Academy, Mission Panauti, the Museum of Stolen Art, and the Heritage Gallery — all share the same vision of people empowered, and the importance of education and preservation of culture and time-honoured teachings and philosophies in the Nepali arts, that also lie at the heart of the Nepal International Arts Programme. Details of these initiatives can be found on the website and PDF. The NIAP is a UK – Nepal historic relationship bicentenary project, designed to be an enduring educational resource for promoting, preserving awareness of Nepal's artistic heritage in the UK, and awareness of broader UK audiences about the UK Nepali community's unique, rich and diverse cultural and artistic heritage.
We are looking forward to assist this important work and link to it through collaboration. For example at the end of 2015, at the time the UK – Nepal Bicentenary celebration activities will be increasingly highlighted, the Museum of Stolen Art will be opened in Panauti. The educational lobbying dimension of the NIAP will at that time be a most helpful platform in the UK in terms of raising awareness of the issues involved in Nepal's sculptural heritage having in earlier, unenlightened times been threatened by the theft of some 50 famous sculptures that have disappeared and been dispersed across the globe: the project involving replicas of these works, recreated by some of Nepal's most skilled artists.
Empowerment and social justice are natural human rights and required for the successful functioning of society and quality of life. The RP Foundation is motivated by the reasoning that with Nepal currently facing a huge unemployment crisis, large numbers of young people are continuing to leave the country for abroad, even if pay and working conditions in many other lands can be extremely poor and injurious. Ironically, at the same time skilled workers are imported to Nepal from abroad to develop big projects. We feel that such trends are not wholesome and do not make good social or economic sense.
The Nepal Vocational Academy seeks to redress this by producing competent and market-orientated skilled workers with traditional skills that can be used in conservation and new building projects in Nepal that use the traditional techniques; giving such students of the Academy valuable skills and enhanced employment opportunities of an empowering rather than disempowering kinds. I, and the RB Foundation, are delighted to have found in the NIAP a greatly appreciated initiative that as the time of the UK – Nepal bicentenary approaches, seeks to provide in the English language an information resource and related educational and exchange projects that seek to profile internationally Nepal's arts and contemporary creative community. These need to be at the heart of an empowered nation that celebrates its depth and richness of culture in ways that boost the national economy and the nation's prestige.
We look forward greatly to working with the NIAP in the year and years ahead and have been delighted to have been involved in supporting the initiative from its inception in the summer of 2013.
Rabindra Puri
Rapindra Puri Foundation
Namuna Ghar, Bhaktapur, 17th October 2014