Building on the Bournemouth & Poole College component of the NIAP of early 2015, in the Dorset area, the NIAP has developed further. Because of the disastrous earthquake of 25th April 2015, Nepal suddenly became the focus of worldwide attention and fundraising to support victims of the disaster and then more emphasis on fundraising for practical measures for recovery, became widespread, especially in the UK.
The UK Nepal Friendship Society through the NIAP participated effectively and with great dedication and focus to support fundraising efforts directly or indirectly. One of the chief purposes of the NIAOP was therefore put to the service of fundraising for specific earthquake recovery projects, such as for orphaned and displaced children (Child Nepal), assistance to partly rebuild an important Kathmandu arts centre (Bikalpa Arts Centre) and eventually to collaboration and partnership with the Gorkha Foundation on project work to help the local economy as well as from earthquake recovery activity.
In this way educating and sharing about Nepal's rich arts and crafts heritage, to in particular British youth via colleges and schools the NIAP has also been assisting in partnership with others, Nepal to recover from the disastrous earthquake, whilst further lobbying in pursuit of the programme's strategic purposes – supporting arts as a medium for equality, human rights and inclusivity, arts as a crucial driver for a much more enhanced cultural tourism sector of Nepal's national economy and UK and international support for this in tangible forms and strategic programmes, and to enhance global citizenship perspectives in the UK.
Some highlights of UK Nepal Friendship Society NIAP activity from the spring of 2015:
We provided Nepali traditional dance performances at the Dorset One World Festival in August: public performances of Nepali dance on this scale had not been known before in Dorset, and the reception of the dances by Protshana Acharya and Anjali Phuyal were received with great acclaim at the festival in the Borough Gardens at Dorchester.  Protshana and Anjali also performed Nepali dance at the Its All About Culture Summer BBQ in Churchill Gardens, Boscombe (seen performing below and also with the Mayor & Mayoress of Bournemouth).
We nominated the Child Nepal organisation to receive funds raised by the incredible efforts of pupils at Yarrell's School (Hamworthy): the amount raised for and received by Child Nepal was £1000. At the same time a single donor provided directly to the UK Nepal Friendship Society a £2000 donation that was provided jointly to Child Nepal and the Bikalpa Arts Centre.
A fundraising event organised in Boscombe jointly between the UKNFS and Boscombe Forum and Boscombe Arts lead, Harry Seccombe during the summer included an auction where a further substantial amount was raised to support the work of the NIAP in aiding earthquake recovery. The event featured the Mayor of Bournemouth, in one of his last official capacity functions, taking the role of auctioneer, where bids were provided for donated artworks by Govinda Sah Azad (the UK's most renowned Nepali abstract contemporary painter) Subash Thebe, also a UK-based internationally renowned artist, and Alan Mercel-Sanca (UKNFS and NIAP lead) who is also an internationalised artist specialising in drawing. Some artwork from the Bournemouth & Poole College NIAP project was also included in the auction, receiving strong bids. Earlier in the day BBC South Today news coverage was provided, including interviews with Alan and Preeti Mahato (who also provided Henna artwork as a special feature of the day).
On the 17th December NIAP International Communications Officer, Deepak Tamrakar lead a picked group of pupils of the Baden-Powell St Peter's School (Poole) in a Nepali dance performance at the school's Christmas Concert at Poole's Lighthouse arts and concert venue (see images below). The performance was received with extraordinary acclaim by the 1000+ audience, with Nepal forming a special focus of the concert, with fundraising for the Gorkha Foundation in partnership with the UK Nepal Friendship Society.
Preceding this Deepak in conjunction with NIAP and UKNFS lead Alan Mercel-Sanca provided teaching to staff and pupils of the school regarding aspects of Nepali culture, including dance and Nepali cuisine: talks and presentations by Alan and Deepak on the latter being a special feature of the school for World Human Rights Day on the 10th December.

September & October 2015 activity:
Separate to the above Nepali arts educational and earthquake recovery events and activities, the UKNFS through the NIAP provided three Nepali dance performances to mark the public opening of Bournemouth University's new International College.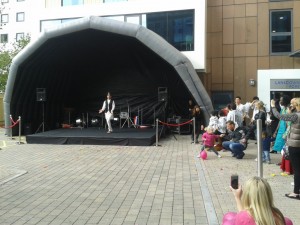 At this prestigious event, Deepak performed two famous and highly popular Nepali dances – Salai Ju and Ma Hu Nepali Babu – and Lata Khanal a third (Nepali Ki Chori Hu Ma): the performances proved highly popular to multicultural audiences and Bournemouth University dignatries that had not before seen any live Nepali dance performed. In addition Raj Kumari Acharya also helped Dorset multicultural organisation 'Unity in Vision' with a Sari Dressing feature at the event. All subsequently received official certificates of appreciation and thanks for their performances.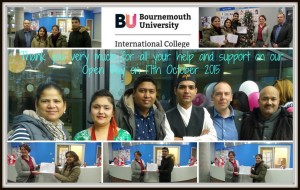 You can view Deepak's Nepali dance performances and Lata's performance on our UKNFS You Tube channel
In London we also provided support to the Britain Nepal Chamber of Commerce's Nepal Earthquake Recovery fundraising event, through a selection of NIAP pull-up panels.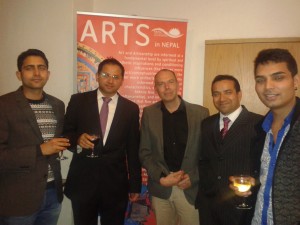 Nepal Art Council Britain-Nepal Bicentenary Exhibition Project:
The UK Nepal Friendship Society through the NIAP is working closely with the Nepal Art Council to develop the NAC's Britain-Nepal exhibition project.  More details to come soon!