KITLEE Arts Gallery/Cafe: The place where you can be "ME"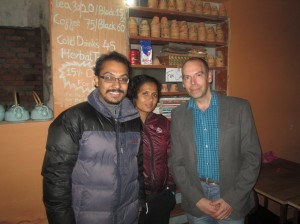 A Gallery/Café with an ambience and space for art enthusiasts as well as artists, writers, poets, actors and all sections of Nepal's and the international community's creative community. "Kitlee" is an approach to develop the space as a long overdue and much needed art hub for Nepal's capital. Kitlee comprises a blend of traditional Nepali coffee and teahouse meeting place and European Arts Café ambiance!.
It's an unique offer in itself because people can access the place, select the movies and watch by their own choice. They can read books, spend some quiet, peaceful and creative time. They can listen to instrumental music, motivational speeches and enjoy audio books of some fine works in international literature.
Dharahara, arguably the most majestic monument of the Kathmandu valley is a truly iconic structure that represents the capital of Nepal in global imagery as much as the Eiffel Tower does Paris, France, or 'Big Ben' does for London. Seeing it from very nearby has always been a delight to the eyes, and this beautiful piece of architecture shines its radiance directly at Kitlee providing a constant inspiration to enjoying good conversation and discussion and debate over Coffee and Tea, your beverage companions to enjoying timeless conversations about the world, life and art!
Our Message:
• It's a good place to hang out, be with and make new friends.
• It has good hospitality.
• It's not only about coffee and tea, rather, you can be benefitted in many ways.
• It's a place where you can have your loved ones as well as likeminded people around you.
• A place where international residents and visitors with interests in the arts can meet and exchange ideas with likeminded people from Kathmandu's artistic and creative community
Who: Friends, friends of friends, artists, art enthusiasts, actors, writers, readers, regular theatre audience, film makers, film lovers and many more.
What: Artistic environment, films, books, coffee/tea.
Why: Because everyone is in search of a place where they can be themselves and share their thoughts and inspirations with like-minded brothers and sisters, including from any part of the world.
Kitlee Artist Fund:
We have a fund named 'Artist Fund' through which we wish to support a developing freelance artist(s) financially to get started with their art venture.
The Kitlee cups initiative: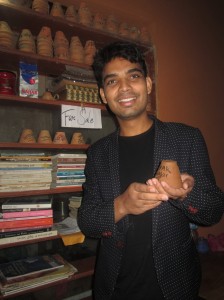 A special feature of Kitlee Café and Gallery is that we serve tea in mud cups made at the local pottery; this is in order to reduce the use of non-disposable plastic in the Kathmandu Valley conurbation, and raise broader awareness about urban environment and related issues. We don't re use the tea cups but they are recycled in other ways such as, as flower pots or in other practical ways. We get them signed by our customers and if that person is a famous public figure that we put those used cups on sale and we put the money raised towards the 'Artist Fund'. We also sell these used cups to people who are interested in the values and vision of the 'Artist Fund' too; these sales contributing to the latter.
'In the Picture' (above) — Deepak Tamrakar (NIAP international communications and education support officer) displaying one of the Kitlee cups
People Behind Kitlee Arts Café/Gallery:
Saayad Ashok:
I have been involved actively in Nepal's art fraternity (Film/Theatre/Literature) as a Writer/Actor/Director now over seven years. I have done my Theatre training from Actors Studio Nepal and Film/Documentary/Tv Program Production from AVAS (Academy of Audio Visual Arts and Sciences). We do have a café with a concept of a gallery, named KITLEE CAFÉ & GALLERY where people from the capital and broader nation's artistic and creative circle gather, have tea/coffee, read books, watch movies and have some creative moments.
At Kitlee we organize at least four programs a month. One is Stand Up Comedy, another Issue-based Drama, another a Book Discussion and the other a Talk Show titled 'Nabhanieka Kura,' meaning 'The Story Untold.' We have completed two episodes of the talk show, where we have an informal chat with the theatre artists and we try to dig out the things which have remained untold till date. We are developing Kitlee strongly as an arts space and arts hub as well, in addition to it being a strong information point regarding art [performing, visual, literary] related activities.
I have been conscious about creating something that will enhance the art itself as well as providing a greatly needed dynamic connection to society and its related components, for these inspire and propel creative activity in a specially powerful way. The whole of Life and the world itself are well-crafted 'created and ever-creating realities,' and we – as human beings with all our feelings, experiences and perceptions about the broader totality of Life — are always a partner to that. That is the reason we have for collaborating with creative communities and addressing their sentiments through different mediums of Art.
Samuna K C: Founder Chairperson, The Freelancers Nepal:
I am an Actor/Director in Nepali theatre and films. I graduated in theatre acting and production from MS University, India. It has now been over 10 years since I began working in the field of art. We have a theatre group called 'Freelancers Nepal' which we are developing as an umbrella organization for all of the freelance theatre artists' community in Nepal to protect their rights and intrinsic value. Apart from these artistic activities we are involved in empowerment, justice and humanity and human rights enhancing social activities too.
Amongst these, the Theatre of the Oppressed is particularly important. This involves a method where we talk and reflect and act upon serious and pressing issues such as violence against women, child labor exploitation, human rights, etc. We are members of the Network for the Theatre of the Oppressed in South Asia, Central Asia, and the Middle East. I participated in the conference of the network in Kabul Afghanistan last year and will be joining the network's next conference in Abruzzo (Italy), as a mentor for training