Equality, Emancipation — work  by artists, actors, playwrights, film-makers, musicians, and writers and poets in passionate support of these these two great spiritual and humanistic values, so close to the hearts of hundreds of millions across the globe, who look to and are never dissapointed in every nations creative community supporting them, run throughout almost all strands of Nepali arts.
This part of the Equality & Empowerment — itself one of the main driving influences for the key educational  aspect and purpose of the NIAP –section of the website looks at these topics, showing how the artistic community of Nepal leads the way in mobilising for greatly needed change.
Through the eyes of Nepal's arts community, the NIAP provides insights into the great, courageous, and pioneering work of so many of its members, groups and organisations that take most seriously, as missions, activity through all artistic mediums to combat inequality, discrimination, the psychologically and socially crushing effects of prejudice and disempowerment faced by so many who through no fault of their own endure such great and needless vulnerability and minimal quality of life because of their gender, their age, health condition, caste, economic status, sexual orientation or gender identity.
This page, and the deveopment of related subpages will deal with a number of serious and pressing issues and topics were artists — from painters to film-makers and writers are at the fore of working for change and empowerment of the disempowered and the removal of prejudice and discrimination against a number of minorities in Nepal. These will include:
Women's/gender equality
Childrens human rights  — you can see more about this through a film on our General & Modern History & society page (found under 'Film Links')
Work against poverty and economic exploitation
Work for equality and freedom from prejudice experienced by Nepal's Lesbian, Gay, Bisexual and Transgender communities
Campaigning and educational work by artists concerning caste-based discrimination
---
The brilliant and searing work of the Nepali photographer Surendra Lawoti, is a an exemplar of how Nepal's artistic community highlights the plight and raises the issues of experienced discrimination and disempowerment faced by women and a number of minorities in Nepal:
This Country is Yours: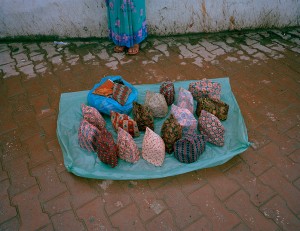 'This Country is Yours is an ongoing long-term body of work started in 2012. The work focuses on activists of six social and political movements of Nepal, which represent the following groups: women, indigenous nationalities, Dalits ("untouchable" groups), Madhesis (regional minorities from the areas adjoining the Indian plains), the Lesbian Gay Bisexual Transgender community, and religious minorities. Along with making portraits of the activists, I am also photographing on the streets, squatter settlements, newly built housing developments, offices of political parties and other locations reflective of the social and political vernacular of Nepal.
Within the context of the representational deficit faced by minority groups, during the important and historic process of the creation of Nepal's new constitution, I am interested in creating a narrative of social and political transformation from the perspective of these six minority groups of Nepal. The work pays homage to those courageous activists who are fighting to make Nepal a more inclusive and just society. The work strays from the didactic, and incorporates a personal visual language of discovery and acknowledgment. This Country is Yours is about Nepal's political struggles, the imminent liberation of the marginalized groups, and transformation. … read more.